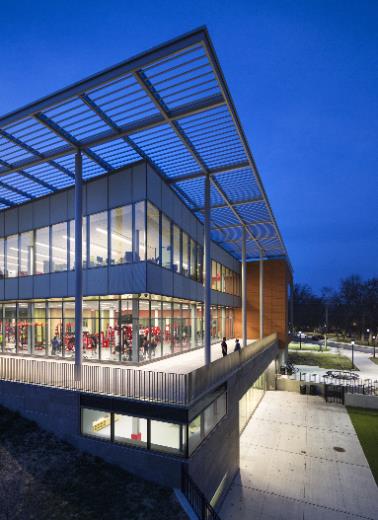 The New Jersey Institute for Food, Nutrition, and Health (IFNH) began in November of 2008 with a $10 million capital award from the Robert Wood Johnson Foundation to the Rutgers University Foundation. Under the co-directorship of Dr. Philip Furmanski and Dr. Robert Goodman, the purpose of the award was to help Rutgers create a research institute that leveraged the university's rich history in the areas of Food Systems, Nutrition and Health. The institute was designated a "Signature Initiative" by Rutgers' 19th president, Richard McCormick, as part of the Our Rutgers, Our Future capital campaign. The institute's founding director, Dr. Peter Gillies, served from March 2010 to September 2018, with the institute officially opening its doors on the G.H. Cook Campus in October of 2015.
The institute oversees a spectrum of translational activity ranging from basic research to community outreach. The breadth of its activities is reflected in the diversity of its research centers, thematic programs, and student services. As one of its top program priorities, the institute focuses on ways to stem the epidemic rise in childhood obesity and obesity-related disorders such as diabetes, heart disease, and cancer. This is particularly important in New Jersey where 16% of 2-4 year olds are already obese. To serve this vulnerable population, the IFNH, in partnership with the Child Health Institute of New Jersey, launched a new program called the "New Jersey Healthy Kids Initiative". This signature initiative places child health at the interdisciplinary epicenter of medicine, nutrition, culinary arts, physical activity, lifestyle management, and early education.
The Institute programs unfold with the multidisciplinary research across boundaries of Rutgers Departments and Schools, education and community outreach. The Institute has the potential to be a model for other states and it positions New Jersey to be a national and global voice in nutrition, health and sustainability.
Founding Principles
The institute is guided by the following organizational principles and core values:
Vision: The IFNH is the organizational hub for interdisciplinary research in food, nutrition, and health at Rutgers University.
Core Purpose: Unite faculty, staff, and students from across the university to work on serious, but preventable health problems in our society.
Mission: Make New Jersey the "Healthy State" and a model for the nation.
Core Values: The IFNH key core values that frame its activities are academic interdisciplinarity, and community responsibility.
Emergent Properties: As a dynamic interdisciplinary organization, it exceeds the sum of its parts, with the transformative value arising from its emergent properties not feasible in conventional organizations.