Questions about Harvest? Call 848-932-9177.
As you enter the light-filled lobby of the state-of-the-art research facility that houses The New Jersey Institute of Food, Nutrition, and Health (IFNH), the first thing you encounter is the sights, sounds and smells of HARVEST, the new dining venue developed as a showcase for the mission and principals of the IFNH.
The credo behind the menu concept, "eat well, live well," developed by Rutgers chef Ian Keith, is to create dishes that are focused on whole, minimally processed food, with "from scratch" culinary techniques that develop flavor without additives, chemicals, sugars, and artificial enhancers found in most processed foods.
Our classically trained chefs are working closely with Rutgers dining services food buyers to source local, sustainable, whole foods and artisan products that are raised and produced responsibly. Harvest meats and seafood, used thoughtfully in the plant- and grain-centric menu, will be hormone and anti-biotic free. This approach is on point with cutting-edge culinary trends in the more forward-thinking restaurant and food service sector, from fine dining to fast food.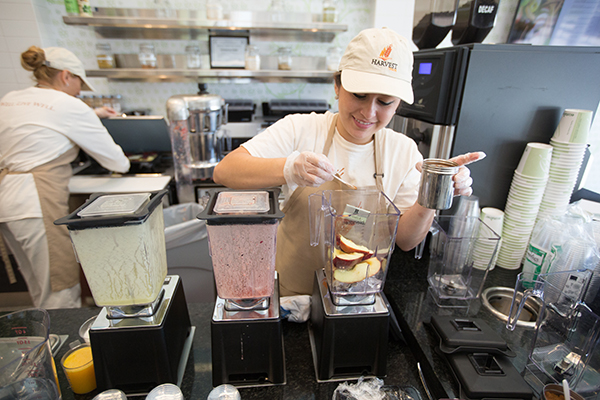 The Harvest menu offerings will feature house-made whole grains, grain & legume salads as part of an abundant and varied salad and fruit bar, a noodle bowl station with a trio of broths and dozens of add-ins for making custom ramen, fresh made-from-scratch soups, a juice and smoothie bar, brick-oven whole-grain pizzettes and flat breads, along with daily entrées and sides featuring vegetarian and omnivore fare. Harvest is open from 8 a.m. to 3 p.m., Monday through Fridays with breakfast and lunch service.
Harvest does not take reservations or reserve tables. Seating is on a First Come, First Serve' basis.
Parties requesting a space will need to pay in advance for Harvest meal vouchers through Dining Catering (732-932-6759) and a table will then be reserved.