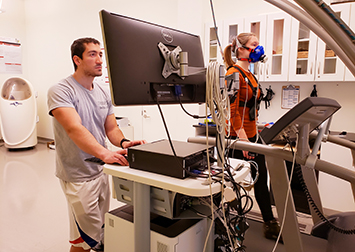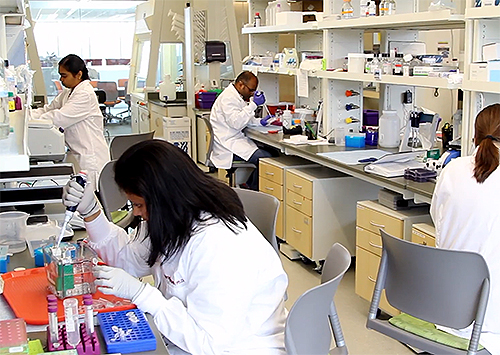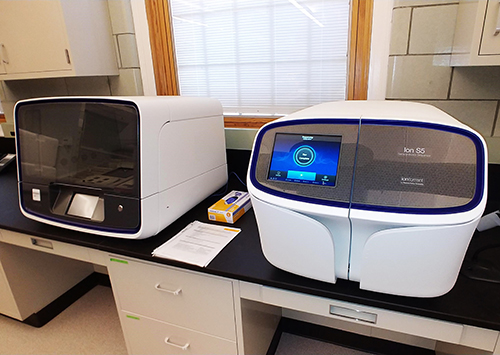 Lipidomics Facility
Harini Sampath (harini.sampath@rutgers.edu)
The IFNH houses an Agilent 7890 gas chromatography unit coupled to 5977B MSD for analysis of short chain and long chain fatty acids. We have the capacity to quantify fatty acids from 2–26 carbons long, and separate long-chain lipids into different classes, including, triglycerides, diacylglycerols, free fatty acids, cholesterol esters, and total phospholipids. Additional separations possible include, phosphatidylcholine, phosphatidylinositol, phosphatidylserine, phosphatidylcholine, sphingomyelin, and cardiolipin. In addition, the Analytical Facility offers a Seahorse XFe24 analyzer for measurement of cellular respiration. With all our instrumentation, we offer consultation on experimental design, sample prep, protocol development, analysis and integration of data, and preparation for dissemination, as needed. See details of services provided (987k Word file).
Kinesiology Facility
Peter Kokkinos (pk543@kines.rutgers.edu)
The Rutgers Center for Human Nutrition, Exercise, and Metabolism (Ch-NExT) has the capacity to assess all aspects of fitness and human performance for all populations, including athletes and patient populations. The primary assessments include: VO2max (Cardiorespiratory Fitness); Resting Metabolic Rate; and Muscular, flexibility, Strength and Power. These tests, combined with exercise interventions, can be used to advance exercise-related research in the prevention and management of chronic disease. In addition, findings can be used to develop and implement age, gender, and race-specific exercise programs that will advance the health and quality of life of people in the community (chnext@sebs.rutgers.edu).
Body Composition and Bone Facility
Sue Shapses (shapses@rutgers.edu)
Instruments measure body composition (fat, muscle, bone) using a segmental analysis. Different instruments estimate body water, resting metabolic rate and visceral adiposity to determine metabolic risk. There are three instruments for human use, the Bod Pod (Plethysmography: Cosmed), dual energy x-ray absorptiometry (iDXA, GE Lunar), and Bioimpedance (InBody USA). The PixiMus (Lunar-GE) x-ray instrument is used to measure body composition and bone in mice.
Microbiome Core
Liping Zhao (liping.zhao@rutgers.edu)
The Microbiome Core maintains three laboratories in Lipman Hall (Cook Campus) which are specifically equipped for processing of microbiome samples and microbial culture, genomic DNA extraction, library preparation and 16S rRNA V4 amplicon sequencing using the Ion GeneStudio S5 System. The Core has access to the high-performance computing environment at Rutgers University for bioinformatics and statistical analysis. Specifically, we own a 2X Intel Xeon Skylake 6130 Node (22M Cache, 2.666 MHz, 192 GB RAM, 5 TB storage) of the "condominium style" high-performance computing cluster Amarel, which provides the Core with high priority and guaranteed access to ensure efficient data handling and analysis. The Microbiome Core uses the QIIME 2 platform for quality filtration and denoising of the raw sequencing data, which will then be analyzed based on the amplicon sequence variants (ASVs) to assess overall microbiota structure. For in-depth data analysis, we will identify the ASVs that significantly contribute to outcome measures, perform reference-free, ecology-guided analysis to identify guild-like structures among the key ASVs and dissect their relationships with host phenotypes.
Natural Products and Bioanalysis
Qingli Wu (qlwu@sebs.rutgers.edu)
The IFNH also offers bioanalytical, bioavailability and metabolomics support using state-of-the-art analytical instrumentation in botanical and food product authentication, adulteration, botanical integrity and food quality. For random non-targeted compound and metabolite profiling, we use an Agilent 1290 Infinity II UHPLC system interfaced with an Agilent 6546 Quadrupole Time-of-Flight Mass Spectrometry (UPLC-QTOF/MS) with an electrospray ionization (ESI) source. For targeted metabolomic study, Agilent 1290 Infinity II UPLC with 6470 Triple Quadrupole MS (UPLC-QqQ/MS) will be applied to determine range of metabolites in biological samples to support animal and clinical studies. For aromatic volatile compounds and fatty acid analysis, we also have a Shimadzu TQ8040 GC with Triple Quadrupole MS, NCI, Mass spectral libraries, databases, workstation and with a static Headspace Analysis AOC-6000 System with autosampler. We also developed a new specialized lab used only for hemp analytics using an Agilent 1220 LC for the quantitation of cannabinoids including total THC and total CBD in support of research and industry needs. Our analytical labs also have the equipment to conduct stability testing and are there to provide service and support to Rutgers faculty and industry.