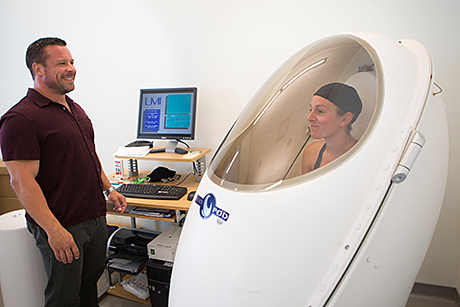 Why Are We different?
The Center for Human Nutrition, Exercise, and Metabolism (Ch-NExT) is a research laboratory dedicated to improving the health and performance of our clients. We are not a gym and you cannot purchase a membership to workout here. We are a laboratory that carries out research, and as such access to the laboratory is limited to supervised sessions with a certified trainer.
While most businesses in the health and fitness industry are focused on selling you a workout we are focused on delivering results. Why pay $50 per month for a gym membership and $80–120 for a training session to not get any closer to your goals? You see going to the gym just to go rarely results in achieving the goals you have in mind. In fact, it may have the exact opposite effect!
Here at the Rutgers Center for Human Nutrition, Exercise, and Metabolism (Ch-NExT) we are well aware of the science that goes into developing a training plan designed to deliver a specific outcome. Because all sessions are designed and overseen by a trained professional you never need to worry about not having an effective training session. We also know that your goals will not be achieved in one session. This is why we are not in the business of selling workouts.
In order for us to deliver the results you are looking for we ask that you commit yourself to the process.
What Services Are Offered?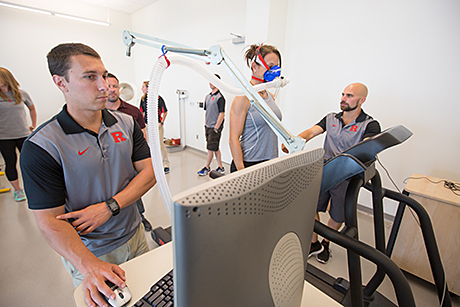 Performance Program
Our "Performance Program" is geared toward the development of young athletes in preparation for college, professional athletes looking for the competitive advantage, and the weekend warrior looking to maximize the efficiency of their training.
While athletes may be great at practicing their sport, they often fail to understand the importance of and critical need for properly developing strength and power–both for improved performance and injury prevention. In our model, form follows function. Pre-training athlete assessment, program development and implementation, and athlete re-evaluation are critical to success. This model takes the guesswork out of training and recovery and yields better results without wasted time, effort, and money.
Our Performance Program is designed for the team setting. Please contact us for prices and times.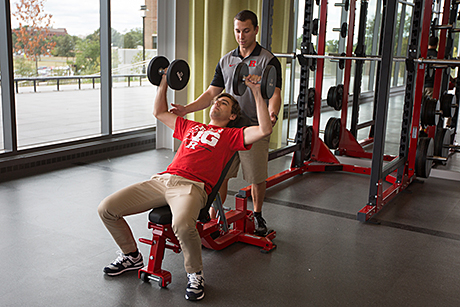 Health and Fitness Program
This program is designed for those looking to lose weight, gain lean muscle, enhance physical function, and improve overall health.
Our Health and Fitness Program has 3 components: Intense Cardio Exercise (ICE), Focused Intense Resistance Exercise (FIRE), and Healthy Lifestyle Class.
What Is ICE?
Shape up, get fit, and burn fat with Intense Cardio Exercise (ICE) classes. Our ICE classes are designed utilizing the latest in scientific research on fat loss exercise.
As of 2012 greater than 66% of American adults were overweight or obese. At this same time point almost 32% of American children (2–19) were obese. This comes with great cost to the individuals, employers, and society. And although a fair number of these folks may belong to, or go to the gym frequently they are not reaching their weight loss goals.
Instead of spending endless hours on cardio equipment with little return, ICE classes are short and effective. In fact, it has been shown that only 30 minutes of high-intensity activity per week was enough to improve glucose control and skeletal muscle metabolism in type 2 diabetics.
Classes are designed to improve exercise capacity and facilitate fat loss and are conducted in a group format lasting roughly 30 minutes. All fitness levels and abilities are welcome.
What Is FIRE?
Simply put FIRE is Focused Intense Resistance Exercise.
Resistance exercise is the only non-surgical way to change the shape of your body.
Additionally resistance exercise is the number one way to combat sarcopenia, or age related muscle loss. There may be as much as 30–50% loss of muscle mass between the ages of 40 and 80. Among other things, sarcopenia is associated with obesity, osteoporosis, and type 2 diabetes. It also predicts mortality in middle aged and older adults.
Training is conducted in a group format and typically lasts 45 minutes. Classes will be limited to 6 participants for each certified trainer. Resistance training exercise will be performed with a variety of equipment including but not limited to barbells, dumbbells, and kettlebells.
Exercise prescription includes a 12-week periodized training program specific to individuals based on their sport-specific needs and specific health indicators and will be held 2 or 3 times per week. Prior to enrolling in FIRE classes individuals will be evaluated by a certified trainer and CHHP lab staff to determine baseline body composition and strength. Continued assessments by certified trainer and CHHP lab staff will be made at 6-week and 12-week time points.
Subsequent 12-week programs will be based on data collected from completed programs.
What Are Healthy Lifestyle Classes?
What you eat affects every aspect of your life. Learning the science of what happens when you eat often serves as an impetus for change.
Healthy Lifestyle Classes focus on sustainable behavior change and are ideal for anyone looking to lose weight, to improve their health, or to get the most out of their training.
Healthy lifestyle classes will be held once weekly for a 12-week period. Class size is not limited. Certified instructor will lead each session. Health history and physician clearance required. Topics will include, but are not limited to:
What is metabolism
Seven steps to success
Turning good intentions into life-long habits
The secrets of a successful transformation
What is the right type and amount of exercise
How to be calorie aware
Health indicators will be measured at baseline and at 12 weeks. Modified health indicator assessment may be made at the 6-week mark or more often as determined by initial health indicator screening.
How Do I Know Which Program Is Right for Me?
Choosing the service(s) that will deliver the results you are after is key. In order for us to be sure you have selected the appropriate service, please schedule a consultation with our Director of Training and Conditioning. Your consultation is free.