Mission and Team
The Center for Agricultural Food Ecosystems (RUCAFE) is a center of the New Jersey Institute for Food, Nutrition, and Health. RUCAFE applies a uniquely diverse and holistic approach to researching food systems and designing innovative and culturally appropriate methods to sustainably nourish our growing human population in balance within our global ecosystems.
Our mission is to increase access, affordability, availability, and adoption of healthy, environmental, economic, and culturally appropriate and sustainable food.
We are building upon our history of demonstrated success impacting and transforming lives and livelihoods both domestically and internationally.
Key RUCAFE activities include:
Detailed analysis of food system structures and performances
Model food system dynamics inclusive of animal husbandry and aquaculture
Identify pathways for food system adaptation and resilience
Address public health and nutrition issues through research on the production, distribution and availability of food
Initiate behavior change related to food systems and cultural norms
Build teams involving producers, retailers, community members, industry professionals, researchers, regulators and other stakeholders to design and implement innovative food systems
Promote novel field, indoor crop cultivation and AgroForestry systems
Design rural, urban, and peri-urban value-chains that promote food business opportunities and multidisciplinary micro-enterprises
Education and outreach
The Center's trans-disciplinary, evidence-based approach to research and education engages a wide variety of partnerships in academia, industry, government, public-private partners, NGOs and communities that all contribute to the re-imagination of our food systems.
RUCAFE purposefully unites multidisciplinary teams of community actors, scientists, policy makers, artists and innovators to tackle today's most complex food system challenges.
The RUCAFE contributes to Rutgers University and New Jersey's communities by: (1) Fostering an inclusive, multidisciplinary team that embeds food systems theory and content with strong linkages to the New Jersey Agricultural Experiment Station and the Cooperative Extension Service; (2) Strengthening academic opportunities for Rutgers University faculty, staff and students (graduate and undergraduate) to engage in food systems research, practicums, workshops and colloquia, and participate in local, domestic and international settings; and (3) Embracing the 'Jersey Roots, Global Reach' paradigm.
From urban agriculture in Camden, NJ to the high density population centers in Nairobi, Kenya; to the rural farms in southern New Jersey to the wild cultivated crops in Zambia; from the indoor vertical farming systems in Newark, NJ to future rooftop gardens and farms; from large traditional agricultural farming systems to Non-Timber Forest Product systems, the RUCAFE recognizes that diverse research, partnerships, and extension outreach are required to reimagine a food system that feeds our growing population while working toward ensuring a sustainable and healthy balance within our global ecosystems.
RUCAFE Multidisciplinary Team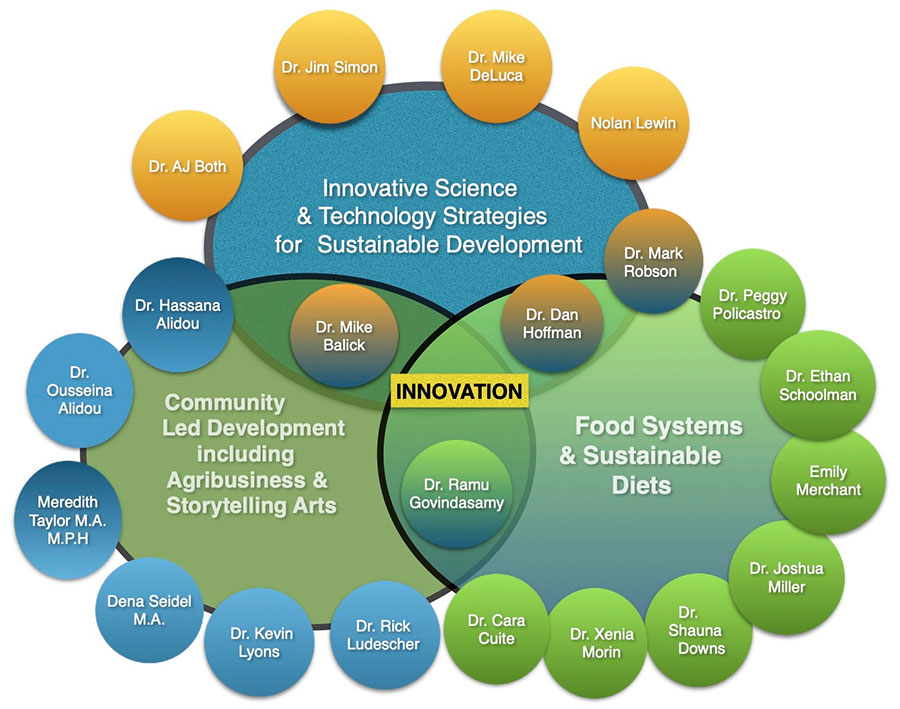 Meet the Team