The Food Systems Program at the Institute of Food, Nutrition, and Health, creates opportunities for collaboration, education, and investigation of food systems from production to customer to waste disposal. By taking a systems approach, we seek to determine the linkages between different elements of the food system and we ask how these linkages can be changed to make food systems more sustainable and healthier for people and the planet.

Recent activities included the Student Food Sustainability Fair on World Food Day, October 17, 2018.
See the SEBS Newsroom article Student Food Sustainability Fair: Making Smart, Environmental Food Choices

.
World Food Day Activities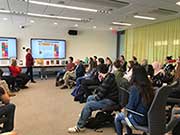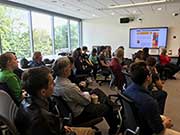 A Science Cafe was held in IFNH Room 205 to recognize World Food Day on October 17, 2018. Science Cafes are hosted by the Campus Dean, Judy Storch and Mary Nucci.

Drs. Xenia Morin and Jill Lipoti used Sustainable Development goal 2 "No Hunger" to lead the Science Cafe discussion on how eliminating hunger can change the world.