Spring has officially sprung for the IFNH Student Ambassadors! The past few months have proven to be some of the busiest for the institute's student representatives and their supervisor Dr. Peggy Policastro, as they took on research, Rutgers Day, and presenting posters at a state conference. Here's a recap of the IFNH Student Ambassador Program accomplishments for the 2018 spring semester.
George H. Cook Thesis
Chelsea Cotugno (SEBS '18) defended her George H. Cook Senior Honors Thesis, an undergraduate research program specifically for students in the School of Environmental and Biological Sciences at Rutgers. Chelsea's thesis, titled "Menus of Change University Research Collaborative (MCURC) Protein Flip: Mushroom-Beef Blend Taste Test" concentrated on the concept of the Protein Flip, which aimed to reduce animal-based protein consumption and incorporate more vegetables and plant-forward proteins. This was the first multi-site study conducted with MCURC member universities. The universities that collaborated on this study were Harvard University, Boston College, Lebanon Valley College, and Stanford University. The results of the project impacted the development of the Sizzlin 'Scarlet Knight burger, which is a 50% mushroom-50% beef burger now offered in the Rutgers dining halls. Chelsea's advisor for the project was Dr. Peggy Policastro who guided Chelsea through this collaborative project and the process of writing her thesis. Chelsea is extremely grateful for this amazing experience.
New Jersey Academy of Nutrition and Dietetics Annual Meeting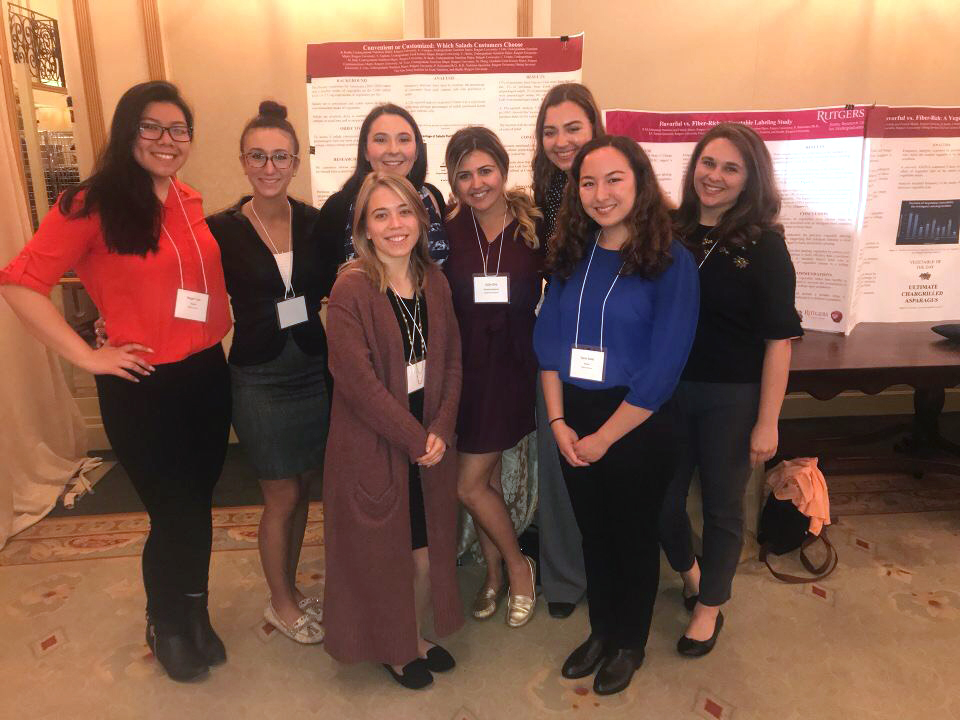 On May 11th the Student Ambassadors presented posters of their three research studies at the 2018 New Jersey Academy of Nutrition and Dietetics Annual Meeting where the ambassadors got to share their findings with Registered Dietitians and health professions from all over the state. The first study presented by Chelsea Cotugno (SEBS '18), Dana Ikeda (SEBS '20), and Megan Yuen (SEBS '19) was "Faith in Fats: Assessing College Students' Perception of Meals Containing Saturated, Unsaturated, and No Fats". This study assessed students' health perception of fats in foods. The next study presented by Madeline Holt (SEBS '19) and Brenda Borba (SEBS '18) was "Flavorful vs Fiber-Rich: A Vegetable Labeling Study". This study assessed whether naming vegetables with sensory-rich or nutrition-focused labels is more effective than a standard name at increasing the number of college students choosing vegetables in the dining hall. The final study presented by Carly Harris (SEBS '18), Irene Dib (SEBS '19), and Sofia Zois (SEBS '18) was "Convenient or Customized: Which Salads Customers Choose". This study assessed whether students choose salads more frequently when purchased from a salad bar or in prepackaged form.
Aresty Research Symposium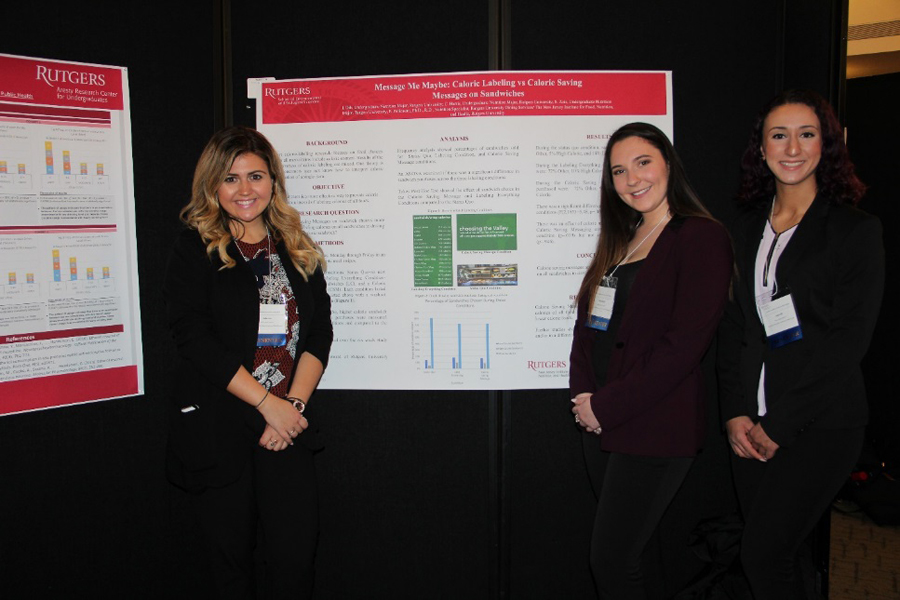 All of the previous Research projects were also presented at the 14th Annual Aresty Undergraduate Research Symposium in Piscataway, New Jersey. In addition to these three studies, Carly Harris, Irene Dib, and Sofia Zois presented "Message Me Maybe: Caloric Labeling vs Calorie Saving Messages on Sandwiches". This study assessed whether displaying a calorie saving message was more effective than labeling calories on all sandwiches in prompting students to purchase a lower calorie sandwich instead of a higher calorie sandwich. The Undergraduate Research Symposium provides students with an opportunity to present their findings to an audience of faculty, staff, peers, and corporate/community partners.
Rutgers Day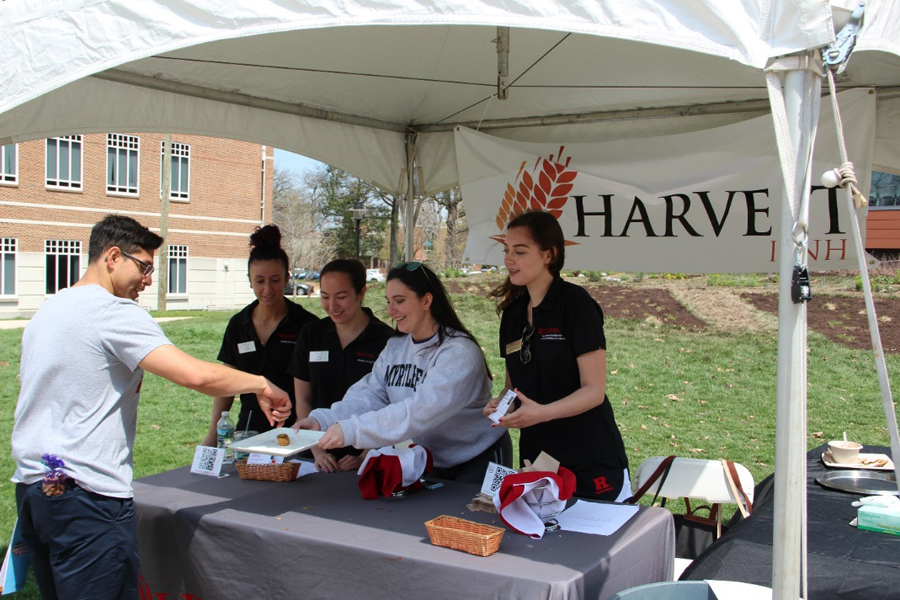 On Saturday April 28th, the IFNH Student Ambassadors had a blast at Rutgers Day! The ambassadors represented Harvest Café located inside the IFNH by giving out samples of two popular items: a Cauliflower Quinoa Burger and Scarlet Juice. It was a great opportunity for Rutgers Day attendees to tantalize their taste buds with Harvest treats, and to learn about IFNH's mission to make New Jersey the model for a healthy state. The event had an estimated 106,000 attendees and the ambassadors had a great time sharing samples and engaging with the Rutgers community.
Graduation and Future Plans
We would like to extend our congratulations to the IFNH Student Ambassadors who are graduating in May. Carly Harris will be continuing on her career path of becoming a Registered Dietitian at a Dietetic internship at Sodexo-New York and obtaining her Masters in Dietetics through University of Rhode Island. Chelsea Cotugno will be attending Agusta University in a combined Dietetic Internship and Masters of Nutrition program. Brenda Borba will be attending Rutgers University School of Health Profession's dietetic internship. Sara Faghani will be continuing with industry based research in food science before pursuing an advanced degree. Sofia Zois will be taking her talents to the food-service industry where she will continue exploring the field of nutrition and food industry.