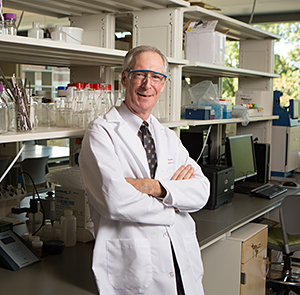 Peter Gillies brings a rich history of private sector and academic experience to his role as Founding Director of the New Jersey Institute for Food, Nutrition, and Health. He earned a B.Sc. (Summa cum Laude) in biochemistry and a PhD in medical science from McMaster University in Canada. After several years of postdoctoral research at the Chemical Industry Institute for Toxicology in Research Triangle Park, NC, he joined DuPont's Central Research & Development division where he was a basic researcher in the company's life science enterprise. While at DuPont, Peter held numerous leadership roles including Director of Cardiovascular Disease Research for atherosclerosis and hyperlipidemia drug discovery and DuPont Fellow for the company's emerging Nutrition and Health business platform. He also held adjunct professorships at the University of Delaware, the University of Toronto, and Pennsylvania State University where he supervised PhD students and postdoctoral researchers. Peter is an elected Fellow of the American Heart Association, an elected member of the Society of Toxicology, member of the National Lipid Association and the American Society of Nutrition. In recent years, Peter's attention has turned to the intersection of nutritional genomics and ethics, and the educational needs of students and empowered consumer/patients in an increasingly molecular world. Some examples of Peter's scholarship are listed below:
Gillies, P.J. and Vanden Heuvel, J.P. (2013) Nutrigenomic Approaches to Unraveling the Physiological Effects of Complex Foods, Chapter 4. In "Nutrigenetics and Nutrigenomics in Functional Foods and Personalized Nutrition", Taylor and Francis, Lynne Ferguson (Editor)
Gillies, P.J. and Schaefer, E.J. (2013) Clinical benefits of eicosapentaenoic acid in humans. United States Patent Application No. CL4938-US-CNT[1] filed May 24, 2013
Gillies, P.J., Bhatia, S.K., Belcher, L. A., Hannon, D.B., Thompson, J.T., and Vanden Heuvel, J.P. (2012). Regulation of inflammatory and lipid metabolism genes by eicosapentaenoic acid-rich oil. Journal of Lipid Research 53:1679-1689.
Roussell M.A., Hill A.M., Gaugler T.L., West, S.G., Vanden Heuvel , J.P., Alaupovic, P., Gillies, P.J., and Kris-Etherton, P.M. (2012). Beef in an optimal lean diet study: effects on lipids, lipoproteins, and apolipoproteins. American Journal of Clinical Nutrition 95:9-16.
Gillies, P.J., Harris, W.S., and Kris-Etherton, P.M. (2011). Omega-3 fatty acids in food and pharma: The enabling role of biotechnology. Current Atherosclerosis Reports 6:467-473.
Peter sees the challenges and responsibilities of building the New Jersey Institute for Food, Nutrition, and Health as the capstone opportunity of his scientific career; an opportunity to give back to the next generation of scientists...scientists who will pursue careers in an increasingly interdisciplinary world where collective success and community responsibility are core values.
Peter J. Gillies, Ph.D.
Phone: 848-932-3500
Email: director@ifnh.rutgers.edu
Current CV (PDF)